All Photos © Mario Barberio 2018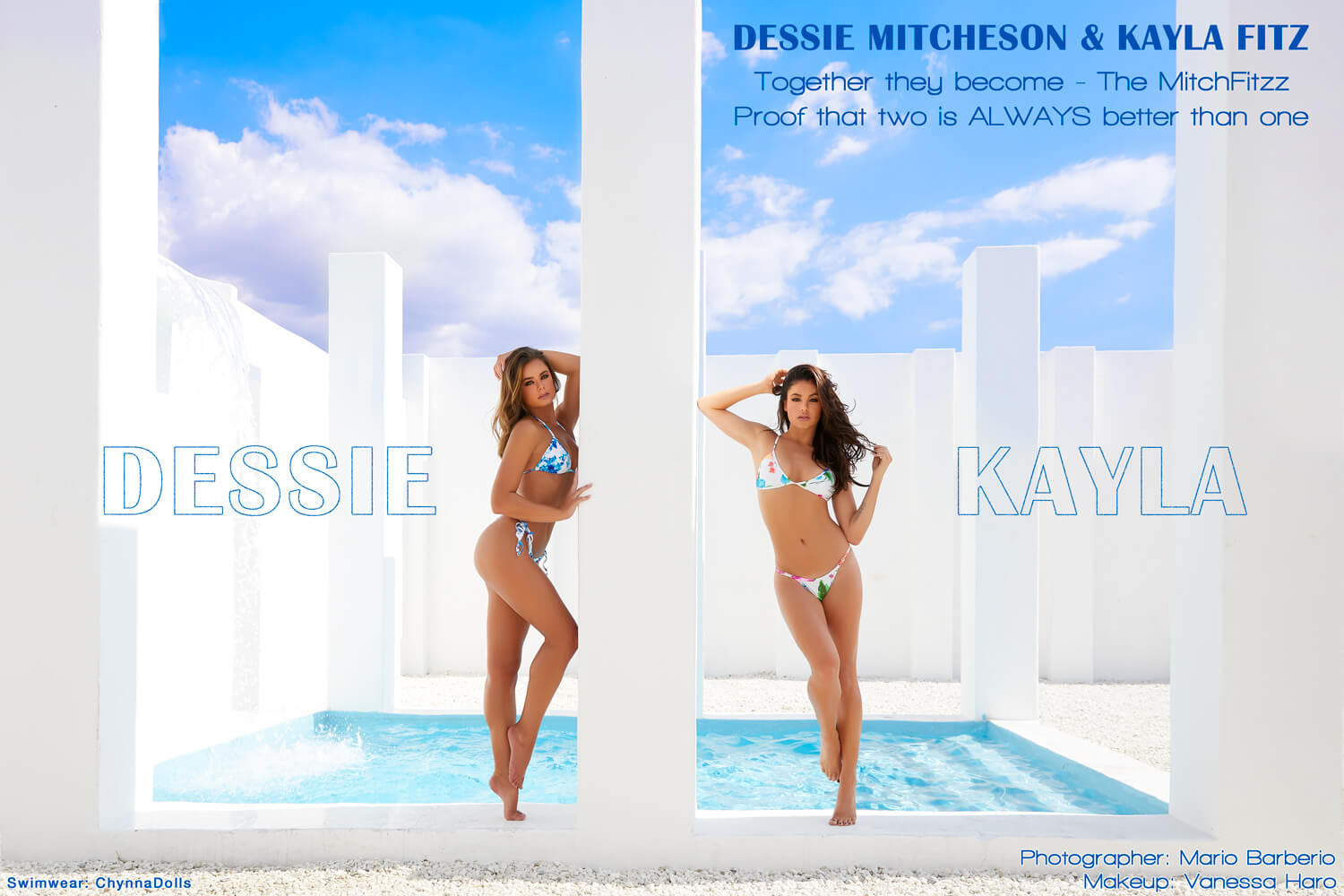 Dessie

Mitcheson and Kayla Fitz

 
Beyond The Spotlights spent a day with best friends Dessie Mitcheson and Kayla Fitz. We found out that both girls came from humble beginnings but through hard work and dedication have made names for themselves in the modeling industry. From an early start, Dessie has cited her mother's profession in cosmetology as the inspiration for her future career path. Both women are also athletic, with experience in sports and gymnastics. Brains and beauty, Dessie and Kayla both received top honors while in school. They both began modeling careers around the same age, with Dessie placing in the top ten of the Miss Pennsylvania USA competition and Kayla modeling for a local bikini company in her hometown. 
Both of the girls eventually found their way to Los Angeles. Dessie was modeling and winning contests for publications such as Maxim, which ultimately led her to LA. Kayla found herself modeling for various swimsuit companies before packing her things to discover the big city. With the support of each other they made it to the top 15 (out of 5,000 participants) for the first-ever Sports Illustrated Swimsuitopen casting call for the new swimwear line and runway show. They both see this as their greatest accomplishment… so far.
While they are basically inseparable, they competed together in season 30 of the Amazing Race. This show was much different than their previous modeling auditions, with both citing the audition process as the last time they were genuinely nervous.  The two have continued modeling and venturing into the world of sports. Both are Monster Energy girls where they travel to sporting events around the world as brand ambassadors. Also, Dessie was one of the ring girls for the legendary Mayweather-Pacquiao fight and Kayla has been seen in commercials for NASCAR. 
Always smiling and laughing, we get the feeling that this is only the beginning of the adventure for these two friends.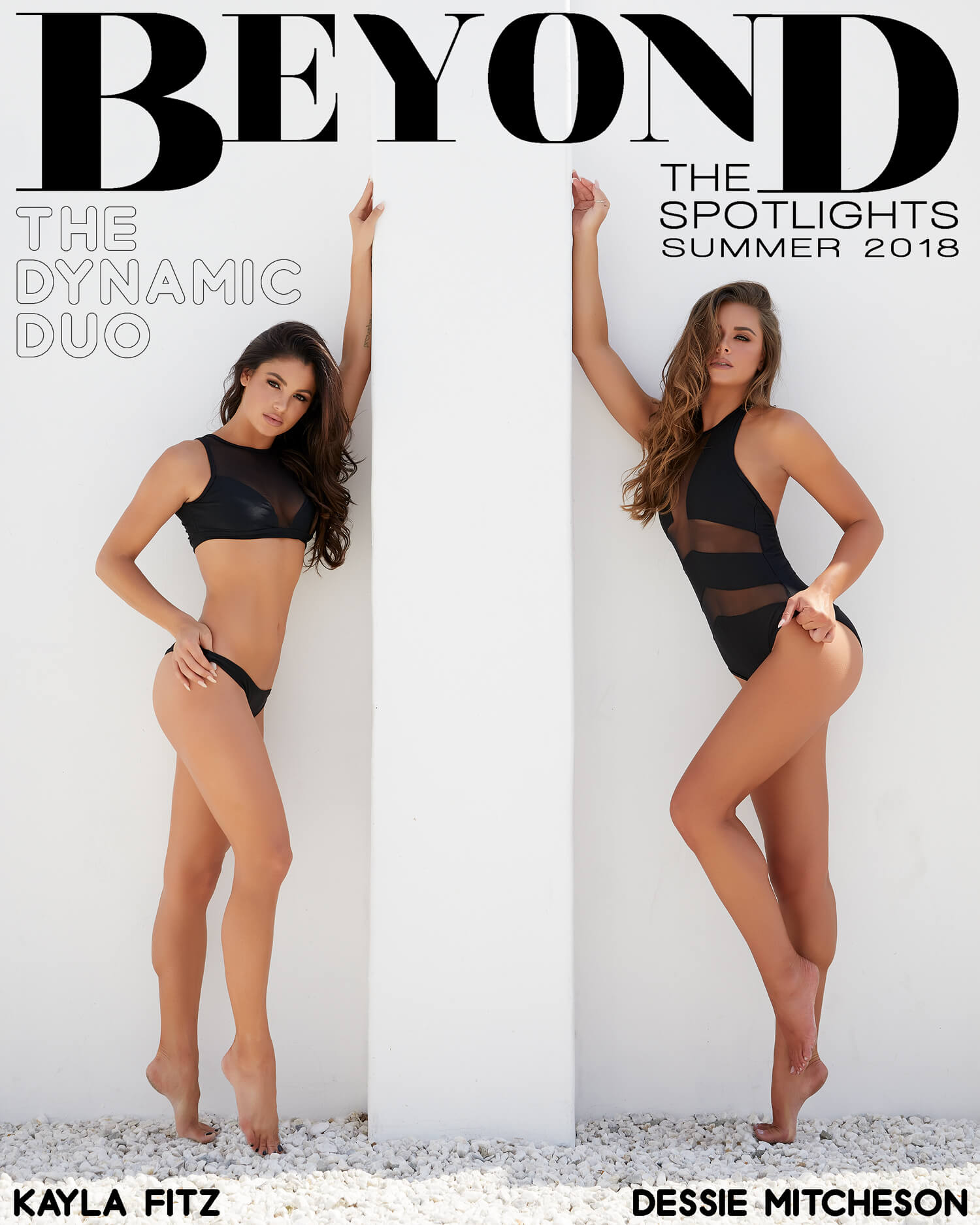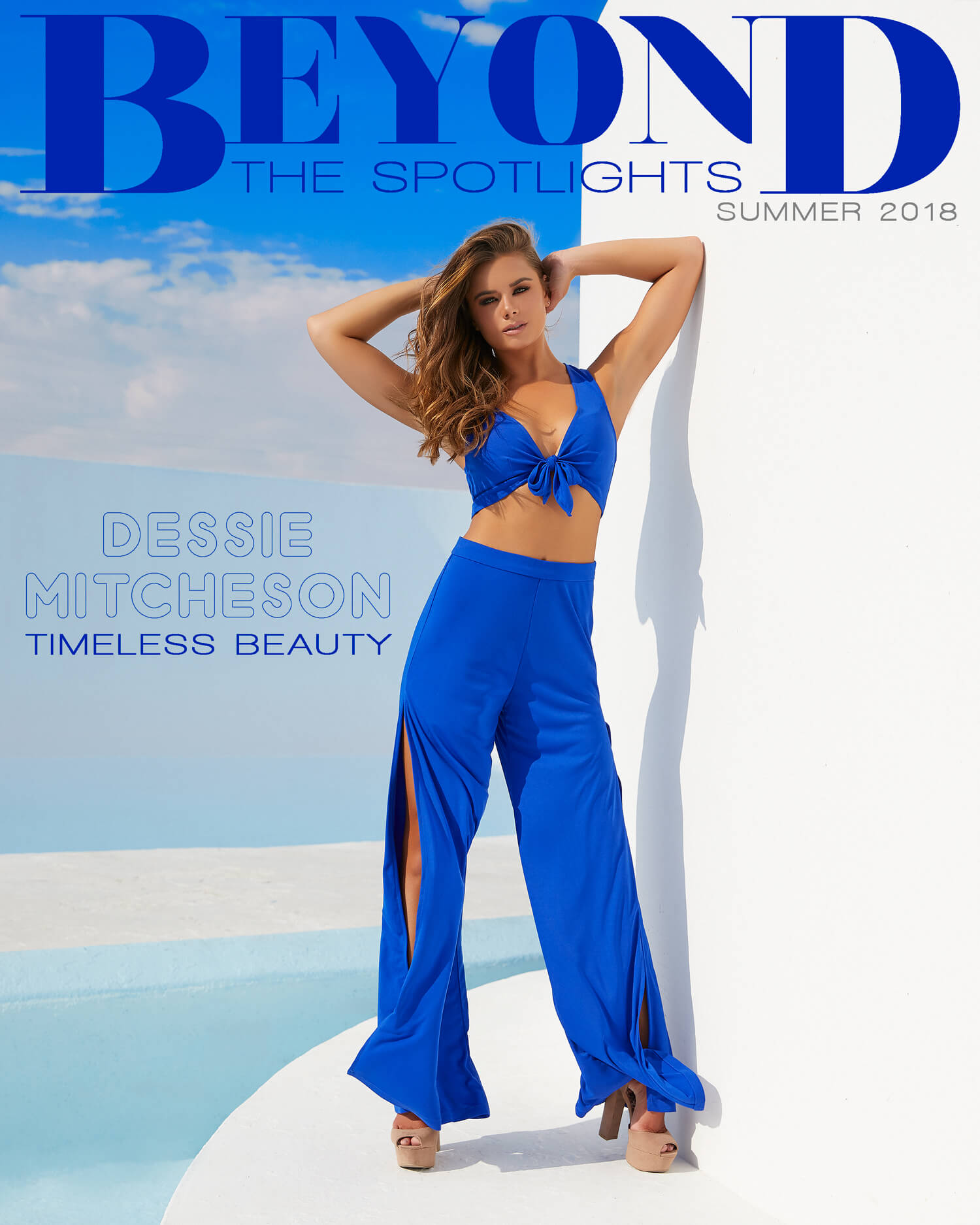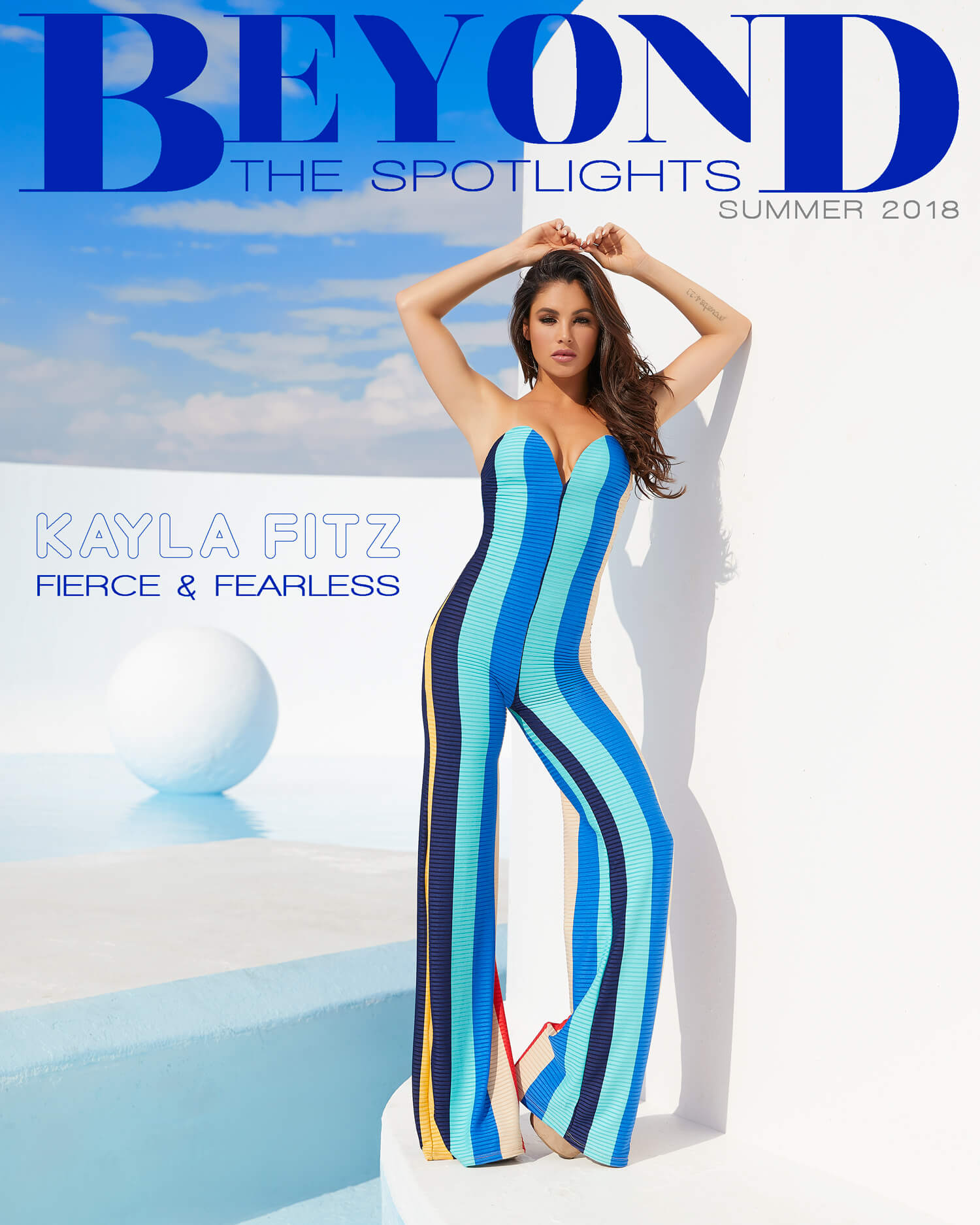 THE LAST MOVIE YOU SAW?
Dessie: Ingrid Goes West
Kayla: Jurassic World!
WHAT DO YOU WATCH ON TV?
Dessie: The Bachelor!! I've watched it since Season 1. haha. I also enjoy binge watching shows on Netflix.
Kayla: The Bachelor is my guilty pleasure.. but I also love Game of Thrones, The Handmaids Tale, and Shooter! NETFLIX original series are also great!
THE LAST PERSON WHO MADE YOU FEEL NERVOUS?
Dessie: When Kayla and I were being cast for the Amazing Race, we had to do a series of interviews with the casting directors, that was probably the last time I felt anxious!
Kayla: The main casting director that Dessie and I dealt with directly was definitely the last person who made me nervous! I don't normally get nervous around people!
YOUR GREATEST ACCOMPLISHMENT SO FAR?
Dessie: I would have to say my experience with Sports Illustrated Swimsuit! From shooting for their first swimwear line to walking in their first ever runway show! Also being named one of the top 15 ladies picked out of 5,000!
Kayla: 1000 percent I would have to say being in the top 15 out of 5,000 for the first ever open casting call for Sports Illustrated Swimsuit! During that experience, I shot with them 2 separate occasions, one being for their catalogue for their first ever swimwear line. I was also fortunate enough to walk in their first ever runway show during Miami Swim Week! Overall, my biggest highlight in my career so far!
A TALENT YOU WISH YOU HAD?
Dessie: I wish I could bust out in song like Celine Dion!
Kayla: I wish I was an amazing dancer and could perform professionally!
WHAT SPORTS ARE YOU GOOD AT?
Dessie: I was an athlete growing up..I was a competitive gymnast, I enjoyed track and field, and I had my varsity letters in diving and golf.
Kayla: Overall, I consider myself pretty athletic, however my skill sets are strongest in competitive cheerleading and gymnastics.
 ONE SPORT YOU WOULD NEVER TRY?
Dessie: I was just working at summer X-games and WOW! I would never try Moto sports haha.
Kayla: I don't think I would ever try any form of racing…. way too many variables that are out of my control haha.
MOST MEMORABLE MUSIC FROM YOUR CHILDHOOD?
Dessie: My parents only listened to rock n roll, and alternative rock. Their favorites are The Rolling Stones, ZZ Top, and my mom loved Rod Stewart.
Kayla: I think I'm going to have to say music from Aerosmith because my mom always listened to them, but I also would have to say music by *NSYNC and Britney Spears.
BEST PLACE ON EARTH?
Dessie: That's a hard one. I guess I would have to say where my fiancé proposed to me in La Paz.
Kayla: I LOVE TRAVELING! I don't think I could pinpoint just one place but so far, I think Rome or Greece!
WORST PLACE ON EARTH?
Dessie: DMV hahaha
Kayla: LA TRAFFIC LOL
SOMEWHERE YOU'D LIKE TO TRAVEL TO?
Dessie: I would love to travel to Japan and Australia.
Kayla: I really want to go to the Maldives and Australia!
YOUR GUILTY PLEASURE?
Dessie: The Bachelor…
Kayla: Strawberry Mochi!
FAVORITE STORE?
Dessie: I like a lot of different types of stores! I would say it depends on my mood.
Kayla: That's way too hard haha but I shop online mostly.. so for clothes, I'd have to say Boohoo or Fashion Nova .
LAST BOOK YOU READ?
Dessie: The 10x Rule. I love reading motivational books!
Kayla: The Secret!
FAVORITE SUBJECT IN SCHOOL?
Dessie: My favorite subject in high school was probably English.
Kayla: My favorite subject in high school was definitely Math.
FAVORITE MEAL?
Dessie: Depends on the day, right now I'm feeling sushi.
Kayla: Either pizza or tacos haha .
YOUR REGULAR CREW?
Dessie: I have the same besties in Pennsylvania that I have had since intermediate school! I also have my besties Kayla and Billie Jo thanks to the modeling world!
Kayla: I have a best friend from back home, my roommate, and my two closest friends would be Dessie and Billie Jo.
WORDS TO LIVE BY?
Dessie: "Don't cry because it's over, smile because it happened."
Kayla: Everything you want, is on the other side of fear!
WHAT'S THE WORST PART ABOUT YOUR JOB?
Dessie: I would say being in and out of airports and sitting in traffic! I live in OC so I am always driving to LA.
Kayla: Lack of sleep due to travel and airports haha.
WHAT'S THE HARDEST PART ABOUT BEING IN THE SPOTLIGHT?
Dessie: I think the hardest part is missing out on other events because of work. There's so many times that I wish I was back home with my family and friends in PA, but I can't be there for everything because SoCal is where I need to be.
Kayla: I think the hardest part is learning to ignore negativity and remaining laser focused on your goals!
WHAT'S THE BEST ADVICE YOU'VE EVER GOTTEN?
Dessie: I have gotten so much good advice in my life. I think one thing that stuck out to me is to always be yourself and don't worry what others think of you!
Kayla: Probably to follow your dreams no matter what, and that you can accomplish whatever you set your mind to!
WHERE CAN WE FOLLOW YOU TO KEEP UP TO DATE WITH YOUR CAREER?
Dessie: You can follow me @dessiemitcheson and you can follow Kayla and I @themitchfitzz!
Kayla: You can follow me @kaylafitz3 and you can follow Dessie and I @themitchfitzz!