All Photos © Mario Barberio 2018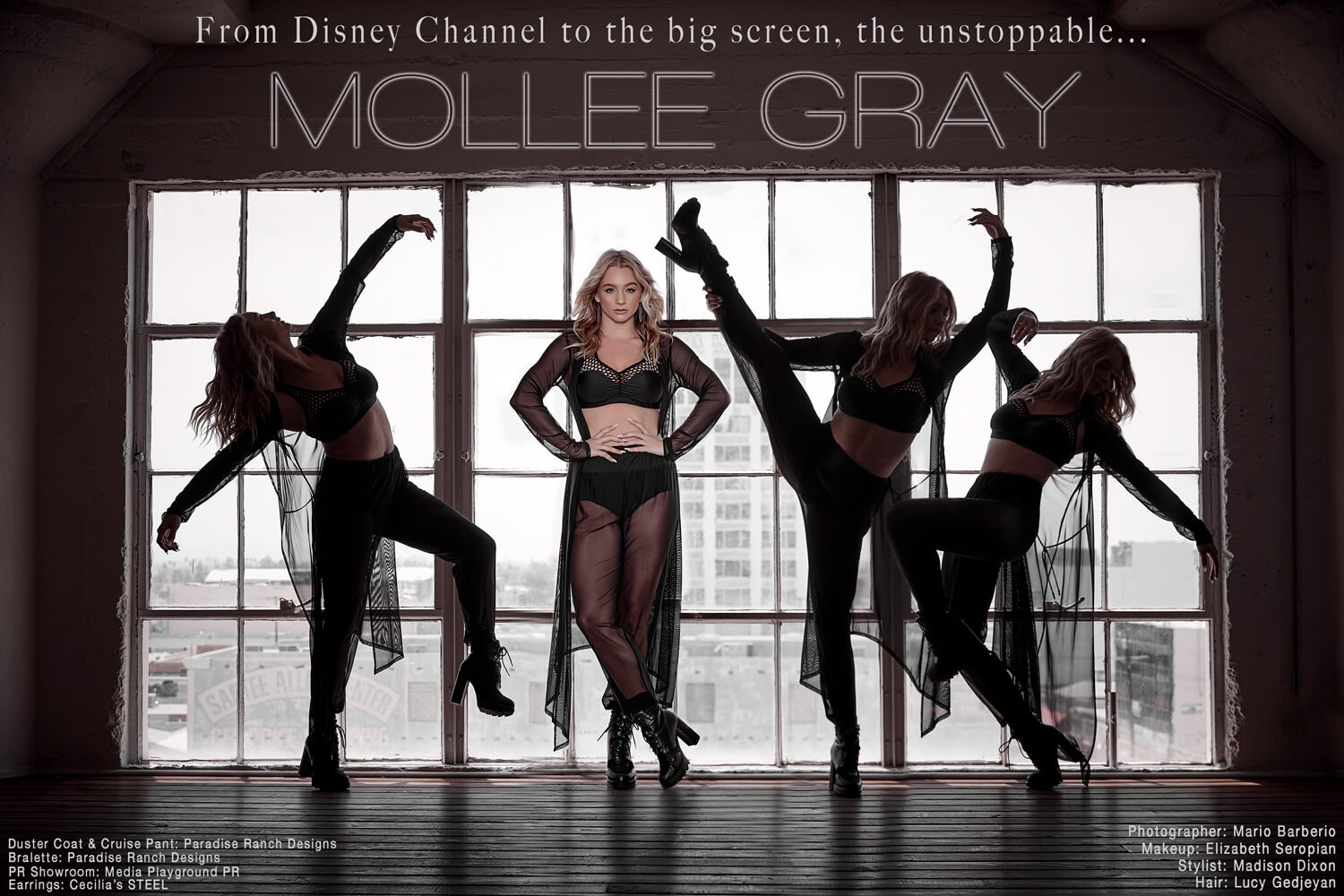 Mollee Gray
The Beyond The Spotlights collaboration with Mollee Gray was a scorcher! It was literally 90+ degrees in the downtown LA studio and with barely a fan to keep her cool, Mollee powered through the dance moves for the shoot like the true professional she is.  Mollee was born in Salt Lake City, Utah but was raised in a small town called Orem. Since a young age, she has taken professional dancing classes and worked tirelessly to perfect her craft. All of this work paid off when she was chosen for a role in the hugely successful Disney Channel movie, High School Musical.
From there, she went on to play an important role in the second highest grossing Disney Channel Original Movie Teen Beach Movie and the following sequel in 2015. Gray has also starred in movies for Lifetime and other indie films.
While Mollee enjoys the big city life and the opportunities LA presents, she still is a small-town girl at heart. When asked of her favorite memories, they all revolve around simple times at the lake with her family and friends. Mollee is also an animal lover, and if the world were to freeze somehow, she said she would go to the nearest shelter and rescue all of the dogs.
Mollee is what many in the industry would call a triple threat. Not only is she a great actress, but she's also a talented dancer appearing on competition shows like So You Think You Can Dance, and a budding musician. Only Mollee knows where her career will head next, but with so many talents and an appreciation for the simple things in life, it's a sure bet that she will continue to grace screens for years to come.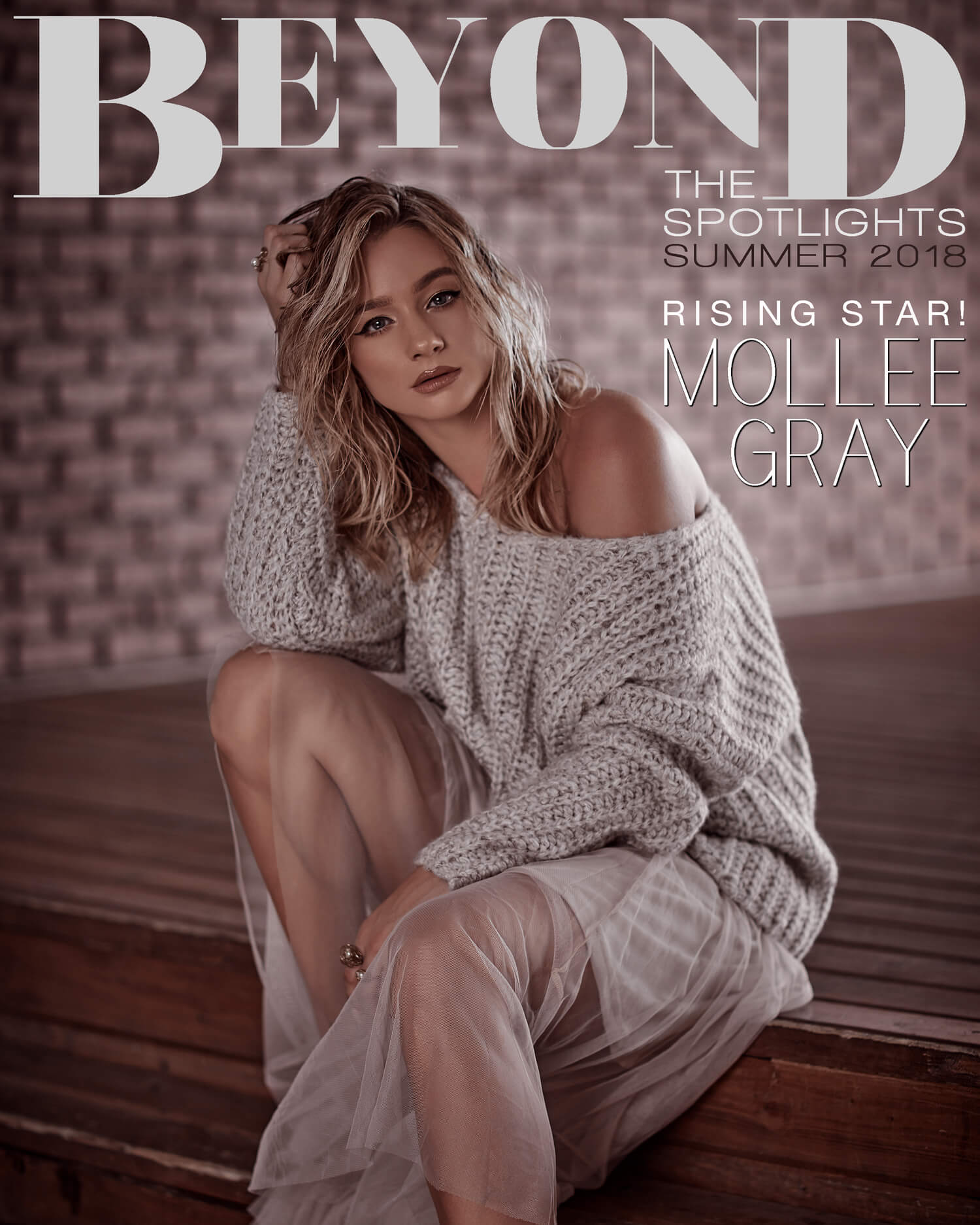 What is your favorite childhood memory?

My favorite childhood memory was going to Lake Powell with my entire family! We had an amazing house boat and would cliff jump, and just hang out as a family!
What is one positive item about living in a big city versus the small town where you were raised? What is one negative item?
One positive thing is how much there is to do in a big city! From beaches to night life. I feel like there's always something to do! Which leads me to the negative, sometimes it was nice to be in a small town, and have stillness and making memories with your neighbors in the cul-de-sac, barbecuing and playing basketball!
If someone asked you to give them a random piece of advice, what would you say?
Make yourself happy before making ANYONE else happy! :)
What's one thing you did that you really wish you could go back and undo?
I'm not one to live in regret, I feel I have learned so much from all my "mistakes," but, maybe I would go back and not download Instagram, haha, I spend way too much time on that dang app! ;)
If you could go back in history, who would you like to meet?
Rosa Parks, no doubt. That woman wsa brave, beautiful, and just a hero to me and so many others.
Time freezes for everyone but you for one day. What do you do?
Probably rush to an animal shelter and rescue all the dogs that I could!!
Would you rather speak all languages or be able to speak to all animals?
DEFINITELY speak to all animals!!!
What website do you visit most often?
Any clothing sites! I am addicted to online shopping, best therapy! :)
What are your three favorite apps on your phone?
Spotify, Postmates and Camera!
How often do you check your phone?
WAYYY too much!!
If you could learn one random skill, what would you learn?
I would love to learn how to draw! I wish I could capture moments with my own hand and utensil rather than just taking a photo!
What is the luckiest thing that has happened to you?
Getting married to the love of my life!!
What is the first thing you notice about people?
How they react to people when they don't think anyone is watching!
Which of the Seven Dwarfs is most like you?
Sleepy for sure!
What three words best describe you?
Lover, goofy and intelligent.
What would be your ideal way to spend the weekend?
In a cabin overlooking the lake! Going jet skiing, boating and having picnics!
Who are your heroes and why?
My entire family. They have made immense sacrifices for me and my dreams, and love me unconditionally through thick and thin!
What advice would you share with someone trying to break into the entertainment industry?
No matter how hard it gets, never give up! Appreciate the journey!
What do you hope to achieve in your professional life?
I would really love to be on a series or portray an iconic character from a best-selling novel!
What are your goals for the future?
To buy a home and raise a family!!!
Please tell us about your upcoming projects to watch for?
I have two movies coming out this year!! One is called 'The Reliant' and the other one is 'The Favorite,' both remarkable stories!
Where can we follow you to stay up to date on your career?
Follow me on social media!! @MollsGrayy