All Photos © Mario Barberio 2018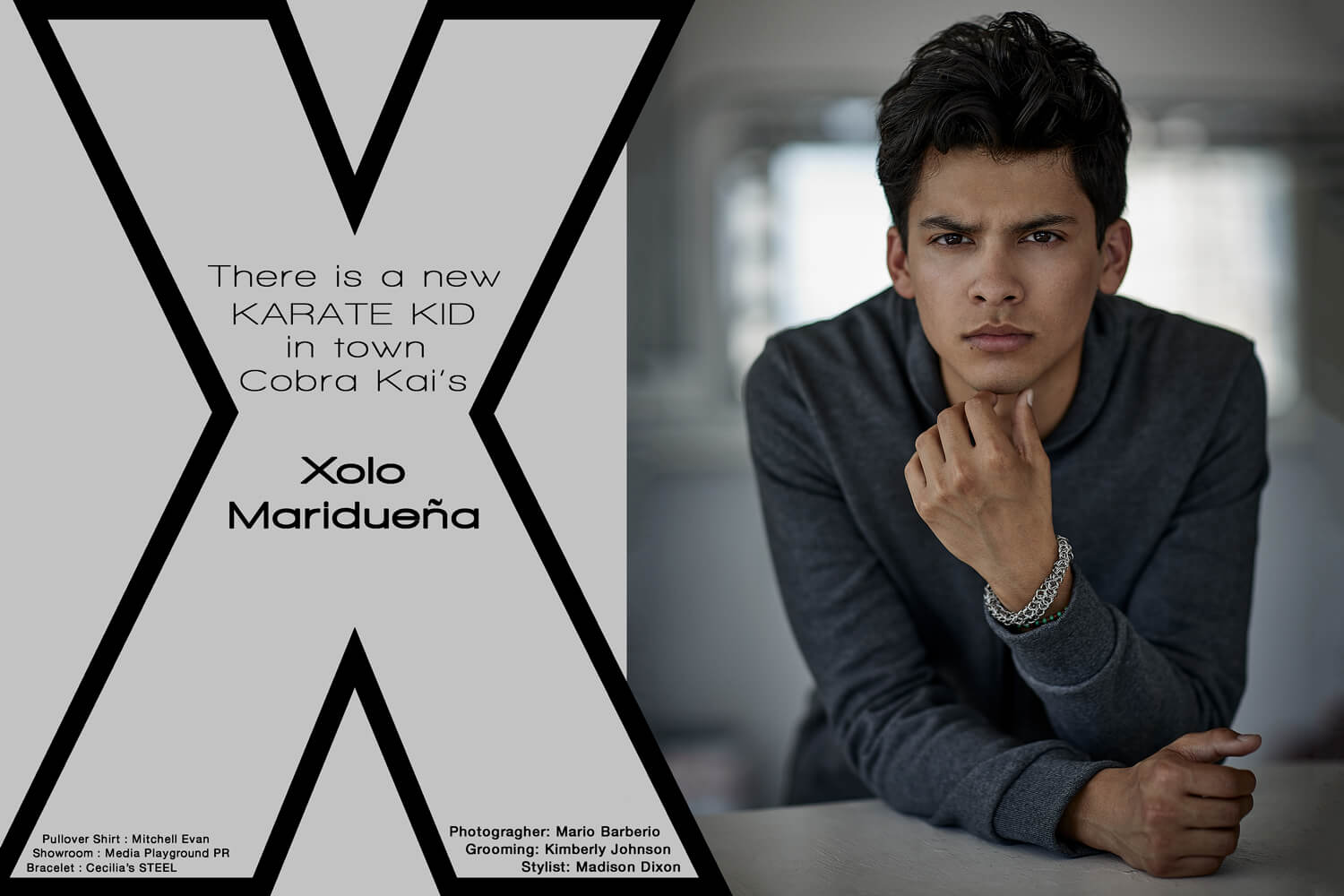 Xolo Maridueña
Even after battling the Los Angeles traffic Xolo Maridueña managed to arrive for his photo shoot with Beyond The Spotlights armed with the smile that made all the girls blush. Xolo told us he wanted to be involved in acting ever since he saw the films "Up" and "The Usual Suspects." In his own words, "I wanted to be a part of a cool story." As a young actor with only a few years of experience, Xolo is already making a big splash with appearances in national advertisements and hit television shows such as Parenthood. Most recently, his role as Miguel Diaz on Cobra Kai has earned him great acclaim as the show was renewed for a second season after only the first two episodes.
The role wasn't easy, and with up to four hours of karate training each day on top of filming and balancing five AP classes, it's safe to say that Xolo knows how to manage a busy schedule.
When asked how he does it, he praises his school counselors for working with him as he travels across the U.S. for shoots along with his family for being so supportive. He looks up to actors like Chris Pratt and Terry Crews, and although still adjusting to the life of being a famous actor, he doesn't see any other career option quite as appealing. 
Xolo has big dreams and says that his ultimate goal is to give back to his family for supporting him throughout his young acting career. One day he hopes to become a screenwriter for major motion pictures. In his words, he wants to be well-known enough that he can write scripts with specific actors in mind.
The future looks bright for this young actor, and although keeping quiet on future projects, he hints at big things coming in the next year.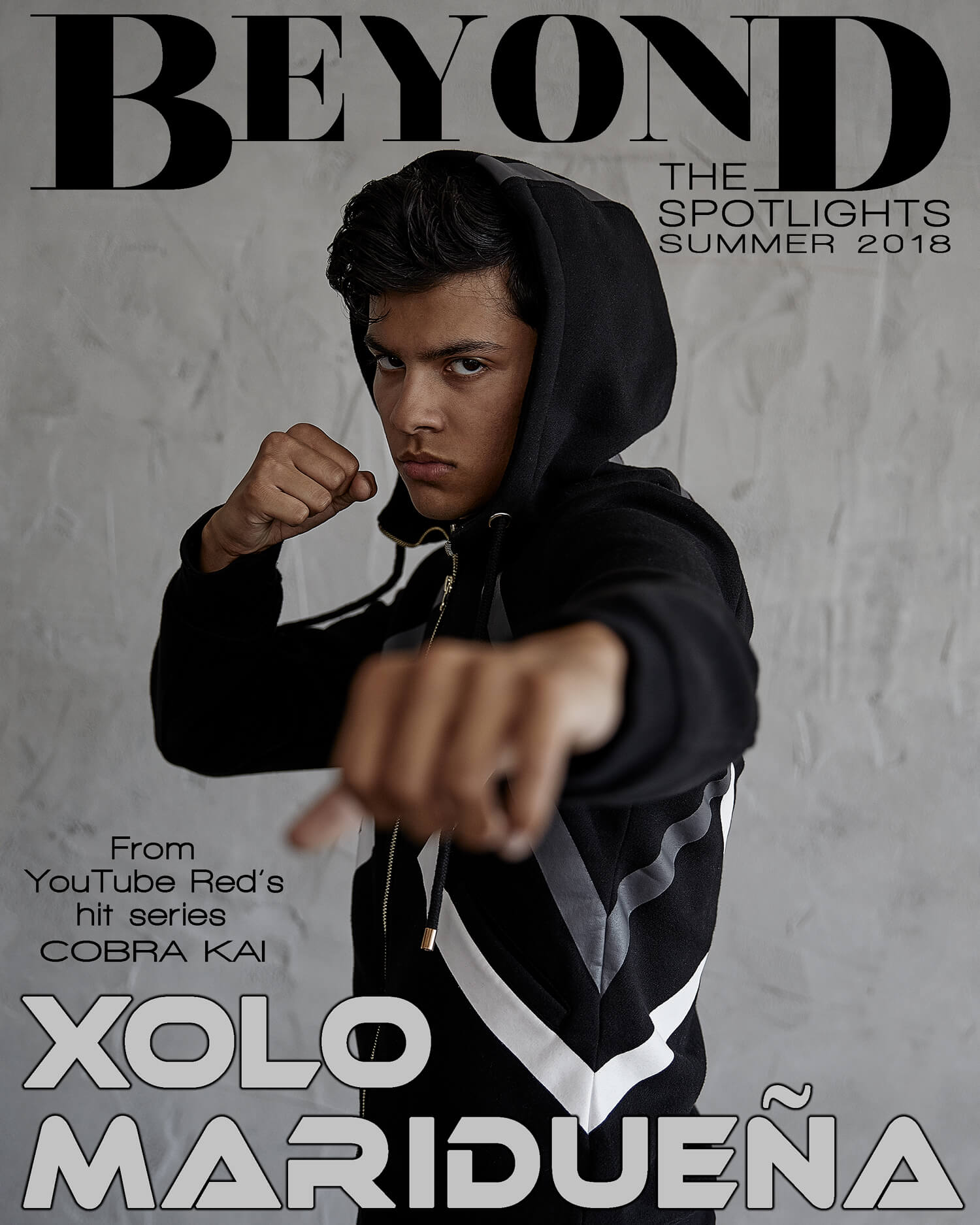 What inspired you to pursue acting?
After 8 or 9 years of barely watching TV or movies, I started to watch movies like "Up" and "Usual Suspects". That's when I realized I wanted to be part of a cool story too. My mom had a friend who was an agent for commercials and print, and we went out, and I was lucky enough to book my first audition: a Sears commercial.
What were your feelings the first time you were in front of a camera on a professional level?
To be honest, my first professional job was Parenthood. I had a lot of feelings but none of them were nervous. I wasn't nervous mainly because I wasn't familiar with the fan base behind the show. Also, it helped that everyone that worked on the show, from Craig T. Nelson to our caterer Frankie, welcomed me with open arms.
What TV show character would it be the most fun to change places with for a week?
Ever since the show came out I had always wanted to know what it felt like to be Ben 10. Obviously, it would be cool to play Detective Peralta from Brooklyn Nine-Nine but, I have to chase my childhood dream of becoming FourArms.
Who is your greatest inspiration in the acting profession?
Right now, Yara Shahidi is by far one of the biggest inspirations in and out of the acting profession. Her dedication to education while also managing Black-ish, Grown-ish and other projects are unparalleled. She is an inspiration for all child actors in the industry today.
What's the best show currently on TV?
Brooklyn Nine-Nine is my favorite show on right now, Andy Samberg, Terry Crews and all the other cast members are immensely talented. The writing on that show is just phenomenal. Every character is so well developed and provides for some really great chemistry on screen.
Congratulations on the Cobra Kai series being picked up for a 2nd season after 2 days of streaming on YouTube Red! Can you tell us about your character on the show?
Miguel Diaz is a young Latino kid thrown into an environment he truly isn't familiar with, in regard to his school but also with Johnny Lawrence. He is reserved at the beginning, but by the end, his passion drives him and Cobra Kai to the top.
Did you study martial arts before being cast as Miguel Diaz?
I studied Shotokan Karate in the 1st Grade back when I lived in Las Vegas, although it was mainly used to learn self-discipline (because I was a very hyper child) it did come in handy when having to learn it a second time around before and during the filming of Cobra Kai.
How many weeks of martial arts training did you go through before taping the 1st show?
There were maybe two weeks of training the basics of karate before we started to film the first episode. During filming, we trained every day anywhere from 1-4 hours, along with an hour of stretching in the morning and at night.
If you just landed the lead role in a big budget action film, who is your dream costar?
Chris Pratt, one of the best actors I know! It probably would be hard to work with him on set though because I would spend all of my time fangirling over him. 
How do you juggle your school work and your professional life?
I'm lucky enough to have teachers and counselors at my school that help me when I film. It is without a doubt a tough thing to manage AP Classes and being across the country filming. I've managed to make it work out and still pull above a 4.0 along the way.  
What or who makes you nervous?
Sometimes I'll go to events or red carpets or just be in public, and I'll see someone that I'm a fan of. For example, I went to the bank by my house and saw Terry Crews, and I instantly didn't know what to do with my life. Do I get behind him in line, do I wait and stare at him awkwardly?
What are the three best apps on your phone?
Instagram is a must for me. I use it every day. It's a great way to keep updated throughout the day and just keep up with friends and family. VSCO is a close second, I really love editing photos I've taken, and VSCO is an excellent app for that. Finally, my music app is the most important, 90% of the day I have some type of music on so having Apple Music and being able to listen to all my songs whenever is an absolute must.
What was the last thing you Googled?
I was playing Scrabble with my best friend, Anthony, and I tried to add an E to the word "Braid" to make it "Braide,".  I wanted to play Quoter and also get points for Braide, and he called me out on it. I had to look it up to see if the word was legitimate. Update: it's not a word here in the US.
How often do you check your phone?
It depends, if I'm with friends or family, maybe once or twice. If I'm just by myself, chances are I'm on my phone. Especially when I'm getting ready for bed, and I decide that it's more important to stay on my phone for a couple more hours rather than actually going to bed.
Do you text more or call more?
I try to call as much as possible. If it's something that really is not important or urgent I'll text, but you can see me on my phone 70% of the time.
What is the strangest dream you've ever had?
To be quite honest the only dreams that stick in my head nowadays are nightmares, but one of the weirder ones I've had recently is a dream where I had the superpower of being able to kill people by screaming Jack Johnson's "Upside Down." Personally, I love that song, but I guess in this particular dream it was a bad thing to listen to the song?
What 3 famous people, living or dead, would you want at your fantasy dinner party?
Chance the Rapper, Michael Cera and Yasiel Puig., They all come from such different backgrounds that I feel like it would be so entertaining to eat food and listen to them tell stories about their lives.
Would you rather win an Olympic medal, an Academy Award or the Nobel Peace prize?
I think the Nobel Peace Prize is the most significant accomplishment out of all of the options, Nobel Peace Prize it is.
If you could eat only 3 foods for the rest of your life, what would they be?
Chicken, prepared literally anyway, Goat Cheese and Guacamole. Not necessarily together, but those are my favorite foods, they'll never get old.
If you didn't have to sleep, what would you do with the extra time?
I'd be spending it going on adventures with my friends, whether it's going to the beach, climbing somewhere or just sitting at home blasting music while playing monopoly I would spend so much more time with my friends.
What is something that is considered a luxury, but you don't think you could live without?
Lotion is definitely something that would be hard to live without. I absolutely hate having dry skin. It's definitely a luxury when you don't have it!
What do you hope to achieve in your professional life?
I hope one day to become a screenwriter and become successful enough to write scripts with specific people in mind and have them come on board for the projects.
What are your goals for the future?
I just want to give back to my family for everything they've sacrificed for me, they do everything for me, and I'll never be able to repay them for that. Putting my mom in a beautiful house and my sisters through college would be the ultimate accomplishment.
Please tell us about your upcoming projects to watch for?
Cobra Kai is the only one I can announce right now but be on the lookout for upcoming projects in the near future.
Where can we follow you to stay up to date on your career?
You can follow me on Instagram and Twitter at @Xolo_Maridueña!